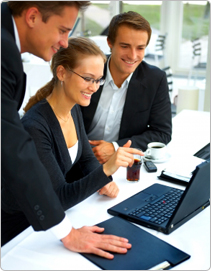 About us.
iTerra Consulting Inc.® develops innovative automation solutions for Oracle Enterprise Business Suite (EBS) of Applications. Our goal is to provide intuitive and efficient tools to migrate AOL/FND objects for EBS customizations and upgrades. Migration process known to be resource and time consuming - finally becomes efficient and reliable with the use of this automation tool.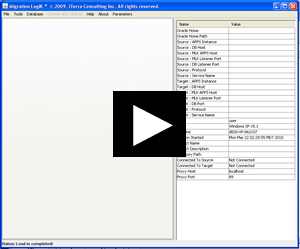 Watch Migration LogiK™ in action. GUI for FNDLOAD.
---
FNDLOAD GUI - a productivity tool, is now available.
Start with the following questions:
- Could you verify the results of Oracle EBS migration and still maintaining restricted access to UAT/PROD?

- Does your migration process can be easily reapplied?

- Could you provide report of the customized objects or search all objects customized by any user?

- Could you build your migration without technical skills?

- Could you share your activity with your team members?

- Is there easily accessible logs of migrated objects?

- Does preparation of migration objects and processes take less than 10 minutes ?

It is safe to assume that very few companies can really answer YES to all of these questions. It is what we do. We automate FNDLOAD - and EBS migrations.

Testimonials
I have used FNDLOAD scripts earlier but Migration LogiK makes it look so easy that I would say it is a wonderful tool. It is must have utility in the arsenal of every Oracle Apps implementer. At the time when implementation windows are shrinking, this tool greatly enhances the efficiency of the implementer in migrating setups across Oracle EBusiness Suite Instances.
Kumar ND.
Software Techologies Limited.
Hyderabad.India
Download
| | |
| --- | --- |
| | Download Page will be available after you fill out the contact form |
Why Migration LogiK™?
Latest features:

Extraction of different localizations.

Migration Validation

MigrationLogiK™ GUI allows effectively address daily Oracle EBS promotions using FNDLOAD
MigrationLogiK™ brings higher level of automation during R12 upgrades.
If you would like to schedule Web presentation - email to MigrationLogiK support for WebEx

Would you like to become an expert in Oracle FNDLOAD?
Are you preparing MD120 for custom EBS objects promotions ?
Are you providing screen shots to your DBA or Release management group for custom EBS objects promotions?

Developers: Power search allows quickly identify custom EBS objects and assemble a migration project using intuitive GUI.

Automatically generate all migration scripts.

Business Analysts : Do impossible - generate Unix migration scripts for Release/Change Management.
Managers and Leads: Immediate control of all migration projects via shared repository.
Minimal implementation effort! In less than 10 minutes MigrationLogiK is up and running providing extremely easy and intuitive way to assemble custom EBS objects!

Managers! Control your team development and releases through "ML" projects and shared repository.

Super fast EBS objects migration - seconds, not hours!

No screen shots, manual entries or search for FNDLOAD, XDOOLoader syntax!.

Extraction and deployment of the object in different localizations. Simply choose your language and save migration project.

Perform validation of migration without violating security restrictions.

Generate and View definition files without connecting to the server.

Automate configuration management tasks.
Efficient integration into existing Version Control system.