Migration LogiK™. Take a brief video tour!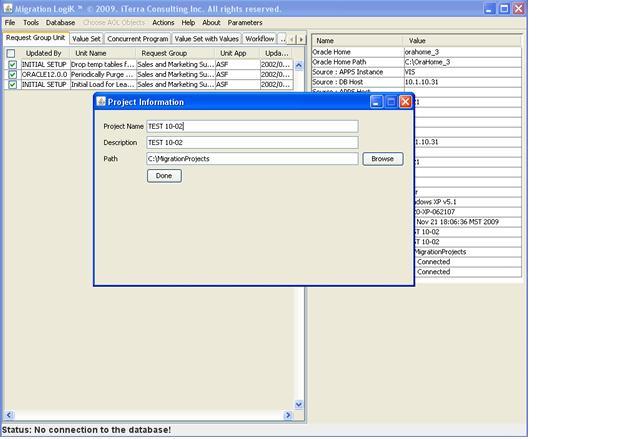 Migrating custom EBS objects can be very time and resource intensive. Whenever a development instance is refreshed, all development work must be restored. Similarly, acceptance testing often necessitates repetitive remigration of custom objects. Migration LogiK™ provides an intuitive and efficient method of migrating Oracle E-Business Suite core objects into your daily development activities.
This productivity tool offers a feature-rich, graphic user interface to Oracle's FNDLOAD utility. When you combine Migration Logik™ with your data repository, creating project-based object migration lists to download or upload AOL objects will only require a few minutes of your time. If you have an existing project that includes repetitive migration activities, you'll save even more time.
Migration LogiK™, a GUI interface to Oracle's FNDLOAD utility, is an essential productivity tool for developers and configuration management teams responsible for quickly building and implementing custom AOL objects.
iTerra Consulting Inc. offers :
MigrationLogiK™ training and implementation.
Support and new Releases as part of the software license agreement
Custom development in regards to migration and conversion projects
Testimonials
I have used FNDLOAD scripts earlier but Migration LogiK makes it look so easy that I would say it is a wonderful tool. It is must have utility in the arsenal of every Oracle Apps implementer. At the time when implementation windows are shrinking, this tool greatly enhances the efficiency of the implementer in migrating setups across Oracle EBusiness Suite Instances.
Kumar ND.
Software Techologies Limited.
Hyderabad.India
Download
| | |
| --- | --- |
| | Download Page will be available after you fill out the contact form |